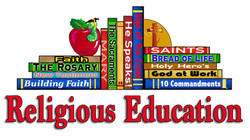 IMPORTANT UPDATE FOR
RELIGIOUS EDUCATION CLASSES
We have a NEW start date for IN-PERSON classes for Religious Education. IN-PERSON classes will not begin until October 6th.
Your child's teacher will be notifying you via email or text with further details specifically for their class.
If you have any questions, please contact Jan Van Slambrouck at [email protected]
[email protected] or 210-658- 3816.
---
ACTUALIZACIÓN IMPORTANTE PARA LAS CLASES DE EDUCACIÓN RELIGIOSA
Tenemos una NUEVA fecha de inicio para las clases EN PERSONA de Educación Religiosa. Las clases EN PERSONA no comenzarán hasta el 6 de octubre.
El maestro de su hijo le notificará por correo electrónico o mensaje de texto con más detalles específicamente para su clase.
Si tiene alguna pregunta, comuníquese con Jan Van Slambrouck en [email protected] o 210-658-3816.