Under Construction- Student Handbook to come
Saint Monica is blessed to have active and supportive parents and families. The PTC works together to hold school community and fundraising events throughout the year. We meet quarterly with the entire school community to discuss achievements and future events. This year our events include:  
Hope For the Future 5k 
Halloween Trunk or Treat 
Santa/Easter Bunny Pictures 
Teacher Appreciation Week 
Catholic School Week 
Converse City Movie Night, March 28 starting at 7:00PM, Food Trucks, Movies on the Lawn! 

Please join us at our meetings, your voice and support are always appreciated. All meetings are held in the school cafeteria and start at 6:15 PM. Click the link for minutes and info from our meetings. If interested please contact us at  [email protected]
Here are the links to each grade levels supply list (click the grade below to access list): 
 
The school uniform is a symbol of a student's pride in herself/himself and their school.  Students are in full uniform daily.  Saint Monica partners with Flynn O'Hara Uniforms. All students PK-8th grade wear uniforms. 

Gently used uniforms are available through the office.
Flynn O'Hara Uniforms
Items may be purchased directly from Flynn O'Hara. Click on the Flynn O'Hara website or visit the store at: 
2108 NW Military Hwy
San Antonio TX 78213
210-247-4180

Free Shipping is offered to St. Monica's families. See front office for code.
BOYS
GIRLS
PreK
PreK-2nd Grade
*White button-down with tie
*Black/Grey elastic waist pants
Red/White school polos
Black/Grey elastic waist shorts
*Black crew socks

 
*White collar blouse                 
*Red plaid jumper
Red/Black/White school polos
Red plaid skort
Black pants 
Black shorts
*Black crew/knee-high socks            
K-8th Grade
3rd-8th Grade
*White button-down with tie
*Black pants
Red/White school polos
Black shorts
*Black crew socks
UNIFORM REQUIRED
*White blouse with red tie
*Red plaid skirt or Black Pants
Red/Black/White school polos
Black shorts
*Black crew/knee-high socks
* Required weekly Mass uniform AND may be worn daily.
School sweaters, fleece, and jackets available for layering when in school.

Shoes: Solid black shoes: tennis shoes, solid black loafers, black Mary Janes, etc.
Food Labels
Saint Monica participates in 3 different food label programs. The labels can be collected off the products you use at home and turned into the school office.  

1) Campbell's Product UPCs 
2) Box Tops for Education 
3) Tyson Food Products
Target Visa
Direct 1% of your spending directly to Saint Monica Catholic School. 
Go to www.target.com to register your card. 
Restaurant Nights
Saint Monica holds multiple restaurant nights per year to help build comraderie amongst the school and local restaurants, along with raising money for the school. 
See the weekly newsletters for upcoming dates. 
Run with a Mission-5K
Join us for a great day celebrating Saint Monica Catholic School along with all the other schools from the Archdioscese. Each school will have a spirit booth and multiple prizes will be awarded. Join us for a fun time for the entire family. Your registration fee goes directly back to supporting Saint Monica. We'll see you on October 21, 2018 at Morgan's Wonderland. More information can be found at https://www.archsa.org/events/event/run-with-a-mission-5k1/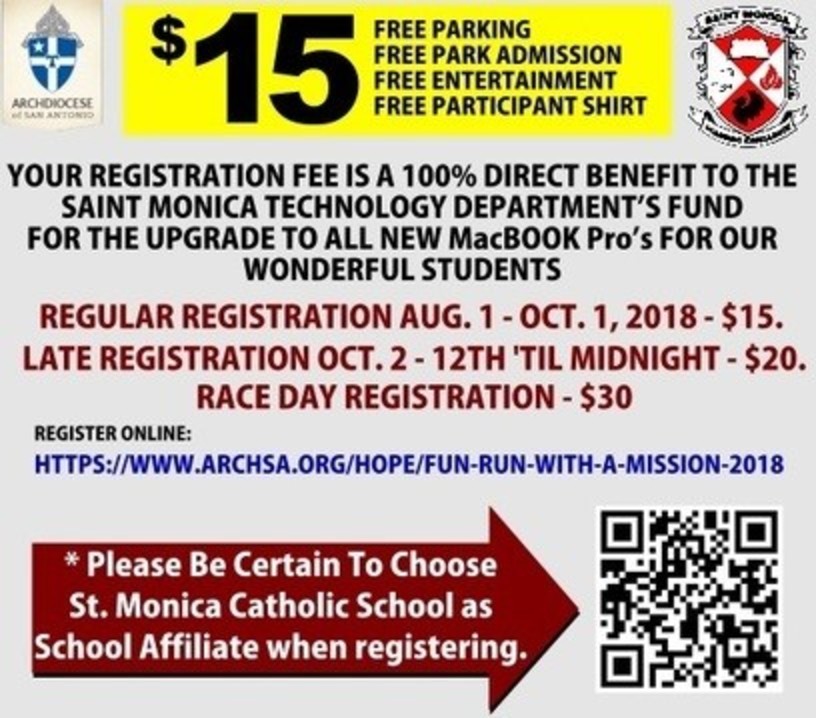 Dragons Spring Silent Auction (To Be updated)
Bullying- means a single significant act or pattern of acts by one or more students directed at another student that exploits an imbalance of power and involves engaging in written or verbal expression, expression through electronic means, or physical conduct. Bullying includes cyberbullying and cyberstalking.

Bullying is hurtful and not tolerated at SMCS. Report ANY bullying below. This form remains confidential and goes directly to Mrs. Chavez.

It can be hard to tell an adult about bullying.  Some kids worry that they will be called a "tattletale." Telling is not being a tattletale. Telling, which adults call reporting, is a good thing to do.

If you or another student has been bullied or hurt, or you are worried that you or another student could be bullied or hurt in the future, tell a teacher or another adult at SMCS. The adults can help you!
We know it can be scary to tell or "report" bullying, so you do not have to include your name on this form.  However, Mrs. Chavez may want to ask more questions about this, so including your name will help her look into the problem.
St Monica School Bullying Reporting