Sacrament of Matrimony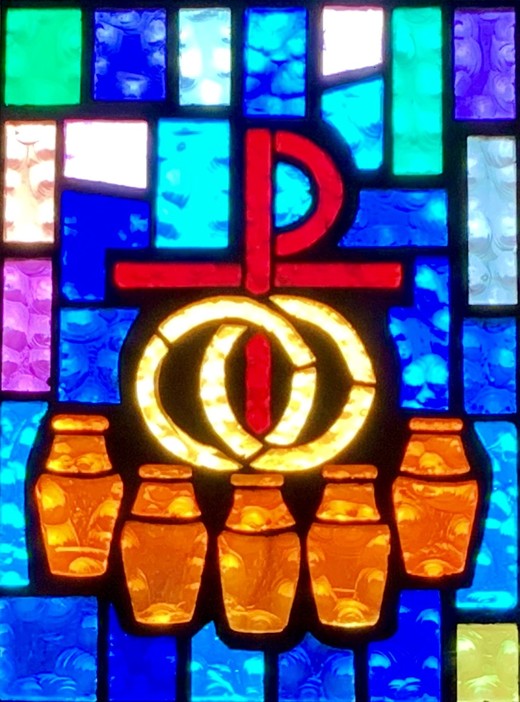 The matrimonial covenant, by which a man and a woman establish between themselves a partnership of the whole of life, is by its nature ordered toward the good of the spouses and the procreation and education of offspring;  this covenant between baptized persons has been raised by Christ the Lord to the dignity of a sacrament.
Archdiocese of San Antonio Marriage webpage
Catechism of the Catholic Church (1601)
General Information
Where do we begin?
Six months notice is required. Wedding arrangements begin with an interview of the couple by a Priest of the parish. Please call the Parish Office 210-658-3618 to schedule an appointment. At least one of the parties must be a baptized Catholic who either lives within our parish boundaries or is an active, registered parishioner of St. Monica for at least one year. Please understand that if you do not live within the parish boundaries and are not a registered member of the parish, we must give preference to active and registered parishioners.
When do we set the date?
Provided there are no special circumstances that arise at this first meeting, a date and time of the ceremony will be set.
There is at least a six-month preparation time required for marriage.
Who will answer our questions about the wedding itself?
The questions which specifically deal with the liturgy itself, i.e., the choice of readings, whether or not to have a "full Mass" or a "ceremony", etc., will be answered by the Priest you have chosen to witness your marriage. Questions concerning things like floral arrangements and decorations, photographs and the like will be explained on accompanying pages or by our parish Wedding Coordinators. Our parish Wedding Coordinators provide an invaluable service to our parish, which includes scheduling the rehearsal itself, and making sure everything runs smoothly the day of your wedding. The planning of music for your wedding will be assisted by our parish Music Coordinator for Weddings.
What if we are getting married elsewhere?
For those couples being married in a Catholic Church outside the Archdiocese of San Antonio, we are happy to assist you with your marriage preparation. (1) We will refer you to an Engaged Encounter Weekend Retreat, (2) administer the FOCCUS communication study tool, (3) have you meet with our Marriage Counselor, (4) complete the Pre-Nuptial Inquiry and (5) collect the Required Documents from you and forward them with the Pre-Nuptial Inquiry to the Archdiocese of San Antonio Tribunal for their approval and forwarding to the Diocesan Office where you are to be married.
Required Documents
Since marriage celebrates the unbreakable commitment between a man and a woman who are free to make this mature decision in the community of believers, certain documents are required to establish your sacramental status within the Church, your freedom from any previous unions, as well as sworn statements attesting to your clear understanding of the nature and responsibilities of Marriage. When a Catholic prepares to marry someone from another faith tradition, a specific document or "dispensation" is also required. The following items are required documents.
1. Baptismal Certificate
A newly issued (within 6 months of current date) copy of your baptismal certificate (with notations regarding confirmation and prior marriages) is required for those who are Catholic. This can be obtained by contacting the Church of Baptism and requesting a new certificate. For those baptized in another Christian faith, a copy of the original baptismal certificate is sufficient.
2. Letters of Freedom (forms provided by the parish)
This is a sworn statement, witnessed by a Priest, minister or notary public, attesting that you have never been married before, in either a Church or civil ceremony, and that there is no known impediment to the marriage. Parents normally fill this out, or others who have known you most or all of your life may complete it. Two letters are required for each party to the marriage. There are alternatively worded Letters of Freedom for those who are widowed and those who have been granted a Church annulment.
3. Permissions and Dispensations
In the case of an "Ecumenical Marriage" (the union of a Catholic and a person baptized in another Christian faith), a Permission for Mixed Marriage form must be completed by the Priest and either signed or witnessed by the parties. In the case of an "Inter-religious Marriage" (the marriage of a Catholic and a person that has not been baptized in another religious tradition), a Petition For Dispensation From Disparity of Worship must be completed by the Priest and either signed or witnessed by the parties.
In both cases, the parties are expected to demonstrate a willingness to commit themselves to honest dialogue concerning their respective religious traditions, and to make sincere efforts to understand and respect each other?s beliefs. As part of the process, the Catholic party signs a declaration stating that he/she is prepared to remove dangers of falling away from the faith, and promises to do all in his/her power to have all the children baptized and brought up in the Catholic church. The non-Catholic party acknowledges an awareness of the obligations of his/her Catholic spouse to preserve and profess his/her faith, and to do all possible to baptize and educate the children of the marriage in the Catholic faith.
4. Civil License
The County Court registers all civil documents. Therefore, any questions you have regarding the procurement of the civil license or other civil concerns should be addressed to the Court. Licenses are valid for ninety days from the date they are issued. The marriage license must be given to the Wedding Coordinator no later than the day of the rehearsal. Please note that it is against the law for the ceremony to take place without a civil license.
5. Pre-Nuptial Inquiry
This takes place with the Priest and is for the purpose of determining your freedom and appropriate intentions in your preparation for marriage.
Convalidations
Convalidation is a marriage preparation process for couples who are:
• Civilly married
• Not married before a Catholic priest or deacon
• Married by a minister from other religious traditions in a ceremony outside the Catholic Church.
Convalidation brings the marriage to the dignity of a sacrament in order for it to become fully recognized by the Catholic Church.
Please note: couple's must first have the facts of their marriage reviewed by their parish priest.
Each parish guides couples seeking convalidation in the process of preparation for the Sacrament of Matrimony.
Please contact the Parish office to inquire more about this process