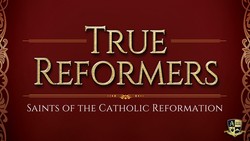 Who are the true benefactors of the human race? Explorers? Scientists? Revolutionaries? Rebels against established authority? . . . or the saints?
True Reformers explores in detail the leaders who led the Church's rebirth from the ashes of Renaissance decadence and the turbulence and confusion caused by the Protestant Reformation. The saints of the Catholic Reformation show us just how powerful—and beautiful—is the human heart's free response to God's generous grace.
In True Reformers, Dr. Christopher Blum explores the lives of six saints who spearheaded the Church's rebirth. You'll want to stay friends with them for life, even unto eternity, as you discover that their call to return to the adventure of following Christ is just as compelling today as it was 500 years ago.
This study begins on January 10th for Monday evening classes or if you prefer 11th for Tuesday morning classes and will continue through April 11th/12th.
Click to register or for info please contact Annette Winfield at 210-885-0861.