SPECIAL SPANISH EDITION: An interview with Deacon Joel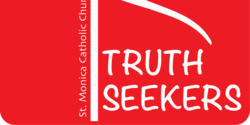 Deacon Joel Castellanos has been a deacon for almost a year, and he is blessed to serve our Lord here at St. Monica.  A deacon helps at Mass serving at the Altar and proclaiming the Word of God.  He can give homilies, and is able to serve at baptisms, weddings and funerals.  Deacons can be married, single or widowers, and they go through a five year formation program, before they can be ordained as members of the clergy.  
Deacon positions are non-paid: it is a vocation that God has called them to follow, to serve Him and His people in a very special way. If you are a man interested in knowing more about the Diaconate program, speak to one of our deacons, our priests, or contact Deacon Mike Paweleck, Program Director at the Archdiocese of San Antonio: https://www.archsa.org/deacons
Listen (or read the transcript in English) as Deacon Joel provides a fantastic interview with a Truth Seeker about his calling to serve the Lord in this special way.  Watch the video above, or on our website: www.saintmonicaconverse.net or YouTube channel:  youtu.be/wUuX8H-UYyA
---
El Diácono Joel ha sido diácono por casi un año, y ha sido bendecido sirviendo aquí en Sta. Monica.  Un diácono ayuda a servir en el Altar y proclamando la Palabra de Dios.  Puede dar homilías, y servir en bautismos, bodas y funerales.  Los diáconos pueden ser casados, solteros o viudos, y llevan un programa de formación de cinco años, antes de poder ser ordenados como miembros del clero. 
Las posiciones de diáconos no son pagadas: es una vocación que Dios los ha llamado a seguir, para servirlo a El a Su pueblo de una forma muy especial.  Si usted es un hombre interesado en saber más sobre el programa del Diaconado, hable con uno de nuestros diáconos, con nuestros sacerdotes, o contacte al Diácono Mike Paweleck, Director del Programa en la Arquidiócesis de San Antonio: https://www.archsa.org/deacons
Send us your questions/Envíanos tus preguntas: https://tinyurl.com/y57hjhx7
Transcript in English
TruthSeeker:  Good afternoon.  We are here with Deacon Joel to find out a little about him and his position as a Deacon.  How are you this evening, Deacon?
Dcn Joel:  I'm good.  Thanks be to God.  I hope you are too.  I'm also a little surprised to be here.
TruthSeeker:  Very good.  Let's get started.  Where are you from originally?
Dcn Joel:  I am from Guadalajara, Jalisco, Mexico. 
TruthSeeker:  How long have you been coming to St. Monica?
Dcn Joel:  We have been coming to St. Monica for 23 years.
TruthSeeker:  Wow! 23 years?
Dcn Joel:  Yes.  That's a long time, right?
TruthSeeker:  Yes.  Okay.  How have you been able to transition from being a parishioner to being a Deacon?
Dcn Joel:  It's been a blessing more than anything.  And it is also a calling from the Lord because we have always been ready to listen His Word and to pay attention to His Plan for us.  My first calling was to the vocation of Married Life.  This has gone very well over time, and as I got older, and my family circumstances changed; all of a sudden I was called to serve the Lord through the Diaconate program.
TruthSeeker:  How do you write your homilies?
Dcn Joel:  I write them with my secretary- my wife.  :D
Of course, first I invoke the Holy Spirit about the Word of God; and then more than anything- I pray.  From then on, as I meditate on Scripture, the ideas come to me and I begin writing.  But I also try to structure the homily in a way that it can be understood- usually by my wife.
TruthSeeker:  Your secretary? :D
Dcn Joel:  Right.  She has a lot of talent and abilities with the computer and helps me get the homilies into a form that I can use.
TruthSeeker:  Was she who inspired you to this vocation?
Dcn Joel:  Not exactly.  As I mentioned, there were several circumstances that seemed to line up in our lives that helped draw me towards this calling.  I had been married more than 5 years through the Church.  I was over 45 years old.  My youngest child was a little older and more independent and I had stable employment, all of which are requirements.  And I was available to help.
TruthSeeker:  Of course.  What is the difference between being a Deacon and being a Priest?
Dcn Joel:  One big difference would be that a priest is not married.  The priest is totally dedicated to the parish, to the City of God, in body and soul.  A priest can administer all of the Sacraments.
The difference is that a deacon cannot consecrate the Body and cannot give Absolution of sins through Reconciliation.
TruthSeeker:  Another question- who are three people you would like to meet?
Dcn Joel: First of all would be Jesus Christ.  I am on the way of knowing Him like everyone else.  We are all on a path towards Jesus.  Then, obviously Pope Francis.  I would also like to meet and get to know many of the Saints.
TruthSeeker:  My last question- who do you prefer - Chivas or America?
Dcn Joel:  I'm not a soccer fanatic.  I like to watch them play, but I am not an extreme fan.  I am passionate about sports but I try not to get too concerned about who wins and who loses.
TruthSeeker:  Thank you, Deacon.  TruthSeekers out!