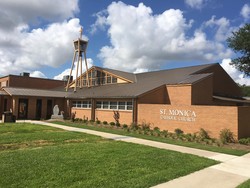 Dear St. Monica Family,
Greetings from Fr. Thumma Prathap and congratulations to each of you on the 60th anniversary of the founding of St. Monica Catholic Church on October 1 , 2020. Hallelujah for this great accomplishment for our church community!
St. Monica Church had very humble beginnings that were greatly influenced by the incredible contributions of many priests, parishioners, and community members who have supported our parish throughout the years. As we reflect on the history of our church, we must acknowledge Mrs. Ida Kneupper, who graciously donated four and a half acres of land so that our parish could be built with the help of a $10,000 grant from the Catholic Extension Society. We celebrated our first Mass at the original church location on October 1, 1960. St. Monica was started as a mission church of Our Lady of Perpetual Help in Selma, Texas; we want to thank our sister parish for always providing support to our community.
I want to recognize Father George Stuebben, the first pastor of St. Monica, and the congregation of 200 families who founded our parish. These early pioneers laid the foundation for what we have grown into today. We also give thanks to Father Hubert L. Bauman, who succeeded Father Stuebben in 1968, and oversaw many important projects for our growing parish including an expansion of the original church building and construction of the parish rectory; which now serves as our parish office. It was during Father Bauman's tenure that plans for a new sanctuary for the parishioners of St. Monica were developed. Unfortunately, he passed away shortly before the new St. Monica sanctuary was opened in August of 1979.
I would be remiss if I didn't show appreciation for the many pastors and priests who have guided St. Monica over the decades. We are very grateful for their service to this community. May the Lord grant eternal rest to our departed pastors and priests, including Msgr. Alois Goertz, and our beloved Msgr. Patrick Flanagan, who led and nurtured this parish for 17 years. We are enjoying the fruits of their hard work.
I sincerely wish to thank Rev. Dennis Aréchiga, Rev. Alejandro Del Bosque, Rev. Mauricio Lopez, Rev. Marcin Czyz and Rev. Mauricio Guerrero for their outstanding service and gifted pastoral care that they gave to this community.
I am sincerely thankful to all those parishioners who have been active behind the scenes, especially Mrs. Ida Kneupper, Mrs. Rosemarie O'Connor, Mr. Howard Marbach, and all of the devoted members of the parish who have been true stewards of God's Gifts and been so generous towards our church.
A special note of thanks goes to Mrs. O'Connor and her family members for their willingness to sell their home to the parish. It will be a great blessing to the parish to have a Rectory on the campus of the church.
I also wish to express my gratitude and pay respect to each and every family and parishioner who has supported th e parish through their donations, tithing, hard work, and service through your ministry and example. So many families have been instrumental in developing this parish over the course of 60 years. I cannot tell you how grateful I am for your selfless contributions to this community. We know that at this moment, we are facing a pandemic of unprecedented proportions. Yet, we also know that almighty God will guide us through this pandemic.
Special recognition goes to our shepherds of the archdiocese who have been great source of spirituality and leadership throughout the years; including Archbishops Robert Lucey, Frances Furey, Patrick Flores, and José Gómez. Thanks and praise also goes to our beloved Archbishop Gustavo Garcia Siller and Bishop Mike Boulette for their constant support and encouragement.
I also want to congratulate St. Monica Catholic School, which was founded in same year as the parish in two surplus military barracks buildings. Congratulations to all the faculty, staff, students, and alumni from our beloved school for 60 years of education and enlightenment! May the Grace of Our Lord Jesus, be with all of you on this special occasion for us all.
Finally, thanks go out our Parocial Vicar, the visiting priests, our deacons and the staff who provide for our spiritual and sacramental needs each and every day.
As we look into the future, the road ahead is full of promise for our parish. Each day, more and more Catholics, and those neighbors and coworkers we haven't met yet, are moving into our parish each day. May we reach out and welcome them to our community. We know the times we live in are difficult, but we also know that in years past, St. Monica has risen to the challenge, and will continue to rise to the challenges of today. May our focus always be on building the Kingdom of God in our neighborhoods and in our homes.
We give thanks to God Almighty for His choicest blessings upon this parish these last 60 years. May all of His Grace and Love be upon St. Monica for the years ahead. I am very blessed to be the pastor of St. Monica and am humbled by the great display of faith that has developed over 60 fabulous years as a parish. God bless our St. Monica family. St. Monica: Pray for Us. God bless America.
Yours in Christ,
Fr. Thumma Prathap
Pastor