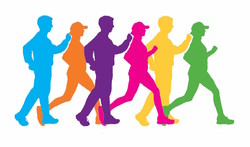 Walk for Seniors Mental Health This Holiday Season!
Do you know of a Senior who has been isolated or feeling down due to the pandemic? Youth in our parish are hosting a Senior Walk Challenge for the entire parish this holiday season starting January 3rd through January 30th. Participants can join in at any time during the challenge. Parishioners are challenged to put on their walking shoes and for every mile they walk that is posted in the Senior Walk Challenge Facebook group they will have earned points towards building a senior care package that will be given to a Senior in our parish community. All ages are encouraged to walk and earn points for Senior care packages! Sign up and participate for free! On Facebook join the Senior Walk Challenge at
https://www.facebook.com/groups/714714892495589 or simply look up Senior Walk Challenge and click to join the group on Facebook.
¡Camine por la salud mental de las personas mayores en época Navideña!
¿Conoce a alguna persona mayor que se esté aislada o se sienta deprimida debido a la pandemia? Los jóvenes de nuestra parroquia están patrocinando un reto de caminata para personas mayores para toda la parroquia estas Navidades a partir del 3 de enero hasta el 30 de enero. Los participantes pueden unirse en cualquier momento durante este reto. Los feligreses están desafiados a ponerse los zapatos de caminar y, por cada milla que caminen que se publique en el grupo de Facebook Senior Walk Challenge, ganaran puntos hacia la construcción de un paquete de ayuda para personas mayores que será obsequiado a una persona mayor en nuestra comunidad parroquial. ¡Personas de todas las edades están animadas a caminar y ganar puntos para el paquete para personas mayores! ¡Regístrate y participa gratis! Únete al Reto de Caminata para Personas Mayores en Facebook
https://www.facebook.com/groups/714714892495589 o simplemente busque Senior Walk Challenge y haga clic para unirse al grupo en Facebook.