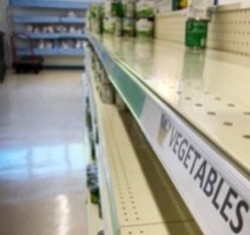 Food Shelves are Empty at Catholic Charities
For the first time since we opened, Catholic Charities has completely empty shelves at the St. Stephen's CARE Center Food Pantry and they need your HELP! Catholic Charities is experiencing high demand and rapid distribution to families in need during the pandemic. They are currently distributing up to 55,000 pounds of food per week to about 1,000 families per week. Please consider donating in 3 different ways:
Shop and donate food
Mon-Fri, 8:30 am-5:00 pm at
Shop online and have your gift of food delivered to Catholic Charities
Monetary donations and helping hands are always welcome.