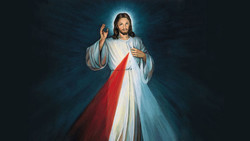 Something New is Happening at St. Monica in the next few months we will be opening a new Divine Mercy Cenacle. It will be in English. Cenacle is a community or prayer group which will help us grow in our faith be studying God's Word and
Divine Mercy teachings contained in the Diary of Saint Faustina.
If you are interested or have questions, you can call Frances Flores, 210-658-2879 or by email franflores307@yahoo.com or
Sylvia Benavides 210-656-2609
---
Algo nuevo está sucediendo
en Santa Mónica. En los próximos meses abriremos un nuevo Cenáculo de la Divina Misericordia. Será en inglés. Cenáculo es una comunidad o grupo de oración que nos ayudará a crecer en nuestra fe al estudiar la Palabra de Dios y las Enseñanzas de la Divina Misericordia contenidas en el Diario de Santa Faustina.
Si está interesado o tiene preguntas, puede llamar a Frances Flores, 210-658-2879 o por correo electrónico franflores307@yahoo.com o a Sylvia Benavides 210-656-2609.