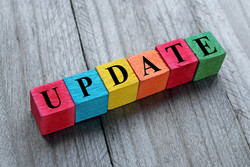 Dear Saint Monica Families,
I am writing to you to provide an update on the status of the house that was purchased on Legion Drive for the priests to live in as the new parish rectory. We bought the house last October, and since then we have been investigating the condition of the home and developing a plan to renovate the house. When we purchased the house, we expected that it would require some significant repairs, but as we received contractor bids, the overall costs began to exceed our estimates. The Building Board, Pastoral and Finance Councils of St. Monica Parish had many discussions about what should be done for the priests to be able to move into the house. Initially, we had budgeted $100,000 for repairs and renovation.
As we received proposals from contractors for the house repair and renovation, the escalation of the price has been shocking.
In order to remodel the house, repairs to the foundation and remediation of the walls, ceilings, and floors would be necessary. With those major items, plus the cost to perform scope that is minimally required for the parish priests to be able to live in the home, it is estimated that it would cost nearly $150,000. In addition, there is a need to have an attached two-car garage, which we estimate will cost another $30,000 - $50,000. We are also concerned that we will continue to have issues with the foundation, even after the repair work is complete.
Based on the increased cost that we are facing to renovate the house, we are considering the alternative of demolishing the house and replacing it with a newly constructed one. As we are exploring the possibility of rebuilding a new home on the lot, I wanted to inform you of what has occurred since we bought the home and what is now being considered.
We are very anxious to move forward on this project, but we wanted to communicate this information to our parishioners first. We will continue to examine and study our options, but feel that an investment of this magnitude by the church requires an honest assessment of what the best course of action will be.
Please contact me if you have any questions about this project and I thank you very sincerely for all your support and understanding. Please pray for my safety as I am going to India on Monday. Please keep my mom in your prayers.
Yours Truly,
Rev. Thumma Prathap
---
Queridas familias de Santa Mónica,
Les escribo para darles un informe acerca de la casa que compramos en Legion Drive para que ahí vivieran los sacerdotes, como una rectoría parroquial nueva. Compramos la casa el, pasado Octubre, y desde entonces hemos estado investigando la condición de la casa y desarrollando un plan para renovarla. Cuando compramos esa casa, sabíamos que iba a necesitar muchos arreglos, pero cuando empezamos a recibir los cálculos de los contratistas, el precio en general empezó a pasarse de nuestro presupuesto. El Building Board, Pastoral y Finance Coincils de la parroquia de St. Mónica han discutido acerca de que se debe hacer para que los sacerdotes se puedan cambiar a la casa. Al principio, teníamos un presupuesto de $100,000 para arreglos y renovaciones. Cuando recibimos las propuesta de los contratistas para el reparo y renovación d Elva casa, el aumento en el precio ha sido impactante.
Para poder remodelar la casa, se necesitaría reparar los cimientos y arreglar las paredes, techos, y pisos. Con todos estos problemas, más el costo de los que es requerido mínimamente par que los sacerdotes puedan vivir en la casa, se calcula que costaría cerca de $150,000. Además, se necesita tener una cochera para dos carros, que calculamos costaría otros $30,000 -$50,000. Y además estamos preocupados de que continuaremos teniendo problemas con los cimientos, aún después de que se hagan todos los arreglos.
Basado en el aumento del costo que esamos enfrentando para arreglar la casa, estamos considerando la alternativa de derrumbar la casa y reemplazarla con una nueva. Mientra seguimos explorando las posibilidades de construir una casa nueva en el terreno, quería informales de lo que ha pasado desde que compramos la casa y de lo que estamos considerando.
Estamos ansiosos de comenzar en este proyecto, pero queríamos comunicar esta información a nuestros feligreses, antes de empezar. Continuaremos estudiando nuestras opciones, pero creemos que una inversión de esta magnitud por la iglesia necesita de una honesta evaluación de cuál es el mejor plan de acción a seguir.
Por favor comuníquense conmigo si tienen preguntas acerca de este proyecto y les agradezco muy sinceramente todo su apoyo y comprensión.
Por favor oren por mi seguridad dursnte mi viaje a India que comienza el Lunes. Por favor también tengan a mi mamá en sus oraciones.
Sinceramente,
Rev. Thumma Prathap