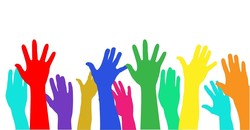 Volunteers Needed
Would you like to join a group that helps mold the future of our church!? Then consider becoming a teacher or aide in our Religious Education group! We can use help at all
levels: Elementary School; Junior High Groups; High School groups, spanish help for our first year sacramental classes. Classes meet on Wednesday evenings. All that is required is a loving heart, dedication, and a willingness to share God's word. Fair Warning: being a part of this group can be quite addictive and produce a warm, fuzzy feeling!
If interested in joining, please contact: Janice Van Slambrouck at
Jan@saintmonicaconverse.net or 210-658-3816
---
Se Necesitan Voluntarios
¿Le gustaría unirse a un grupo que ayude a mol- dear el futuro de nuestra iglesia? ¡Entonces con- sidere convertirse en maestro o asistente en nuestro grupo de Educación Religiosa! Necesita- mos ayuda en todos los niveles: Escuela primaria; Grupos de Edad Intermedia; Grupos de secunda- ria, y ayuda en español para nuestras clases sa- cramentales de primer año. Las clases se reúnen los miércoles por la noche. Todo lo que se re- quiere es un corazón amoroso, dedicación y el deseo de compartir la palabra de Dios. Adver- tencia justa: ¡ser parte de este grupo puede ser bastante adictivo y puede producir una sensación agradable y de contento!
Si está interesado en unirse, comuníquese con: Janice Van Slambrouck at
Jan@saintmonicaconverse.net or 210-658-381