Decree from Archbishop Gustavo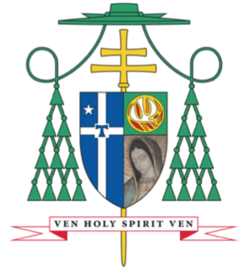 St Monica Family,
Please read below the decree from Archbishop Gustavo on the reinstatement of the Sunday Mass Obligation effective May 23, 2021.  
Included is the church's teaching on when there are "serious reasons for no physically attending Mass...".  Additionally, information on protocols which will remain in effect when individuals and families attend Mass.  
May we continue our prayers for us all as we rejoin as a family of faith to the Eucharist which is "the source and summit of the Christian Life" CCC 1324.
St Monica Pray for us.
---
Familia de Santa Mónica,
Lea a continuación el decreto del arzobispo Gustavo sobre el restablecimiento de la obligación de la misa dominical a partir del 23 de mayo de 2021.
Se incluye la enseñanza de la iglesia sobre cuándo hay "razones serias para no asistir físicamente a la Misa ...". Además, información sobre los protocolos que permanecerán vigentes cuando las personas y las familias asistan a misa.
Que continuemos nuestras oraciones por todos nosotros mientras nos unimos como familia de fe a la Eucaristía, que es "la fuente y cumbre de la vida cristiana" CIC 1324.
Santa Mónica Ruega por nosotros.