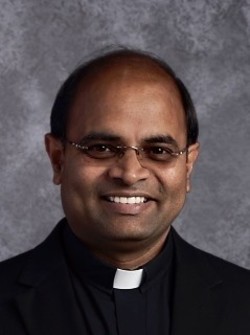 Mission Sunday: Over one billion Catholics all over the world observetodayasWorldMissionSunday. Thisannualobservancewas instituted 94 years ago in 1926 by Pope Pius XI's Papal decree. Every year since then, the universal Church has dedicated the month of October to reflection on and prayer for the missions. On World Mission Sunday, Catholics gather to celebrate the Eucharist, and to contribute to a collection for the work of evangelization around the world. This annual celebration gives us a chance to reflect on the importance of mission work for the life of the Church. It reminds us that we are one with the Church around the world and that we are all committed to carrying on the mission of Christ, however different our situations may be.
Pope Francis writes in his 2019 World Mission Day message, Baptized and Sent. "This missionary mandate touches us personally: I am a mission, always; you are a mission, always; every baptized man and woman is a mission." Hence the Holy Father calls on all Catholics and the Church to revive missionary awareness andcommitment.
The Church is Missionary: The Church, according to Vatican Council II, is "missionary" in her very nature because her founder, Jesus Christ, was the first missionary. God the Father sent God the Son, Incarnate in Jesus, His Christ, into the world with a message of God's love and salvation. Thus, the evangelizing mission of the Church is essentially the announcement of God's love, mercy, forgiveness, and salvation, as these are revealed to mankind through the life, death, and Resurrection of Jesus Christ our Lord.
How should we evangelize? By exemplary and transparent Christian life, by prayer and by financial support. The most powerful means of preaching Christ is by living a truly Christian life — a life filled with love, mercy, kindness, compassion, and a spirit of forgiveness and service. Prayer is the second means of missionary work. Jesus said: "Without me you can do nothing." Therefore, prayer is necessary for anyonewho wishes to accept Jesus as Lord and Savior. All missionary efforts also require financial support because the love of God can often be explained to the poor only by providing them with food, medicine and means of livelihood. Hence, on this Mission Sunday, let us learn to appreciate our missionary obligation and support the Church's missionary activities by leading transparent Christian lives, by fervent prayers, and by generous donations. Let us be Missionaries in our homes.
Domingo de Misiones: Más de un billón de católicos en todo el mundo celebran hoy el Domingo Mundial de las Misiones. Esta observancia anual fue instituida hace 94 años en 1926 por el decreto papal del Papa Pío XI. Desde entonces, todos los años, la Iglesia universal ha dedicado el mes de octubre a la reflexión y la oración por las misiones. En el Domingo Mundial de las Misiones, los católicos se reúnen para celebrar la Eucaristía y contribuir a una colecta para la obra de evangelización en todo el mundo. Esta celebración anual nos da la oportunidad de reflexionar sobre la importancia del trabajo misionero para la vida de la Iglesia. Nos recuerda que somos uno con la Iglesia en todo el mundo y que todos estamos comprometidos a llevar a cabo la misión de Cristo, por muy diferentes que sean nuestras situaciones.
El Papa Francisco escribe en su mensaje del Mundial de las Misiones 2019, Bautizados y enviados. "Este mandato misionero nos toca personalmente: Yo soy una misión, siempre; Tu eres una misión, siempre; todo hombre y mujer bautizado es una misión". Por eso el Santo Padre llama a todos los católicos y a la Iglesia a reavivar la conciencia y el compromiso misionero.
La Iglesia es Misionera: La Iglesia, según el Concilio Vaticano II, es "misionera" en su propia naturaleza porque su fundador, Jesucristo, fue el primer misionero. Dios el Padre envió a Dios el Hijo, encarnado en Jesús, Su Cristo, al mundo con un mensaje del amor y la salvación de Dios. Así, la misión evangelizadora de la Iglesia es esencialmente el anuncio del amor, la misericordia, el perdón y la salvación de Dios, revelados a la humanidad a través de la vida, muerte y resurrección de Jesucristo nuestro Señor.
¿Cómo debemos evangelizar? Con una vida cristiana ejemplar y transparente, con la oración y con el apoyo económico. El medio más poderoso de predicar a Cristo es vivir una vida verdaderamente cristiana, una vida llena de amor, misericordia, bondad, compasión y un espíritu de perdón y servicio. La oración es el segundo medio del trabajo misionero. Jesús dijo: "Sin mí no podrán hacer nada". Por lo tanto, la oración es necesaria para todo aquel que desee aceptar a Jesúscomo Señor y Salvador. Todos los esfuerzos misioneros también requieren apoyo financiero porque el amor de Dios a menudo se puede explicar a los pobres solo proporcionándoles alimentos, medicinas y medios de subsistencia. Por lo tanto, en este Domingo de las Misiones, aprendamos a apreciar nuestra obligación misionera y apoyemos las actividades misioneras de la Iglesia llevando una vida cristiana transparente, con fervientes oraciones y generosas donaciones. Seamos misioneros en nuestros propios hogares.