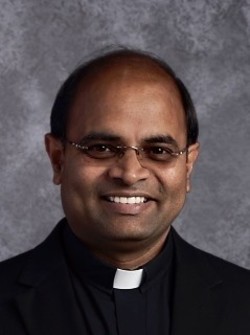 To Our Beloved Parishioners,
To say that we are grateful would be an understatement. The many cards, gifts and kind "thank yous" we have received over the weekend touched each of our hearts. The great love, blessings and prayers you gave to me for my birthday have made me pause and think how blessed I am to be your parochial vicar.
Fr. Thumma and I are incredibly grateful for your love and support in our service to you. They are what make walking into the Church and our office each day so special. We could never adequately repay your kindness to us, but we will do our best to show our appreciation by serving you with joy, humility and great love.
Please continue to pray for us; we will be praying for you!
In the love of Christ, the Good Shepherd, Fr. Thumma and Fr. Ian
A Nuestros Amados Feligreses,
Decir que estamos agradecidos sería un eufemismo. Las muchas cartas, regalos y amables "gracias" que hemos recibido durante el fin de semana tocaron cada uno de nuestros corazones. El gran amor, las bendiciones y las oraciones que me diste para mi cumpleaños me han hecho hacer una pausa y pensar en lo bendecido que soy de ser tu vicario parroquial.
El P. Thumma y yo estamos increíblemente agradecidos por su amor y apoyo en nuestro servicio a usted. Ellos son lo que hacen que caminar en la Iglesia y nuestra oficina cada día sea tan especial. Nunca podríamos devolvernos adecuadamente su bondad, pero haremos todo lo posible para mostrar nuestro aprecio sirviéndole con alegría, humildad y gran amor.
Por favor, continúen orando por nosotros; ¡estaremos rezando por ti!
En el amor de Cristo, el Buen Pastor, P. Thumma y P. Ian