Help support St. Vincent de Paul's Food Pantry!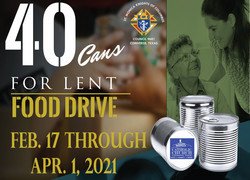 The St. Monica Knights of Columbus ask for your help to support the 40 Cans for Lent Food Drive for St. Vincent de Paul's Food Pantry.  Throughout this Lenten season, the Knights are collecting donations of canned and dry food items.  The Society of St. Vincent de Paul provides hundreds of families within our community with assistance and they have always relied on the generosity of our parish to meet the need.  During this special time of year where we are asked to reflect on our spiritual journey and look to how we can be more giving to others, we are confident that the Community of St. Monica will respond to this important effort.
 
Any donations of non-perishable food can be offered, but the most requested items include:  Tuna, Vegetables/Fruit, Soup, Cooking Oil, Peanut Butter,  Pasta & Sauce, Sugar, Rice & Beans.  
Collection bins will be located in the church foyer to receive your donations starting on February 17 until April 1.  We encourage each family to consider donating one item for every day of Lent.  As always, the Knights appreciate any amount of giving during this Lenten event!
 
Thank you for your support of the great work of the St. Vincent De Paul Society!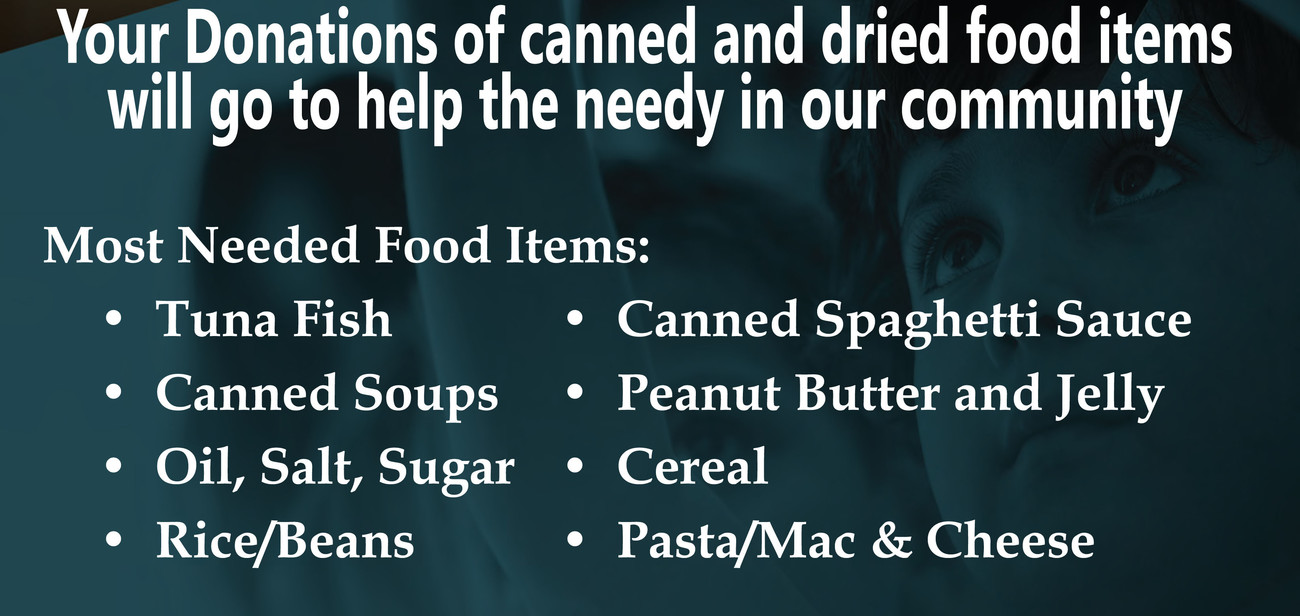 ¡Alimenta al hambriento durante la Cuaresma!
Los Caballeros de Colón Santa Mónica pedir su ayuda para apoyar a los 40 Latas para Cuaresma colecta de alimentos para St. Vincent de Paul despensa de alimentos. A lo largo de este tiempo de Cuaresma, los caballeros están recogiendo donaciones de alimentos enlatados y secos. El San Vicente de Paul ofrece cientos de familias dentro de nuestra comunidad con la ayuda y siempre han dependido de la generosidad de nuestra parroquia para satisfacer la necesidad. Durante este tiempo especial del año en que se nos pide reflexionar sobre nuestro viaje espiritual y buscar cómo podemos ser más dar a los demás, sabemos que nuestra comunidad ayudará a alimentar a los hambrientos.
 
Cualquier donación de alimentos no perecederos pueden ser ofrecidos, pero los artículos más solicitados son: atún, verduras / frutas, sopa, aceite de cocina, mantequilla de maní, pasta y salsa, azúcar, arroz y frijoles. Contenedores de recogida estarán ubicados en el vestíbulo de la iglesia para recibir sus donaciones durante la Cuaresma. El objetivo es recoger un elemento para cada día de la Cuaresma de tantos feligreses como sea posible, pero cualquier cantidad de entrega es muy apreciada!
 
Gracias por su apoyo de la gran obra de la San Vicente de Paúl!