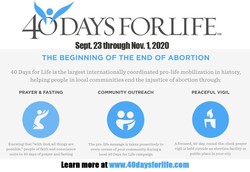 SACFL (San Antonio Coalition for Life) 40 Days for Life
Kick-Off Rally
Saturday Sept. 19, 2020
1—2 pm
40 Days for Life is a focused pro-life campaign which generates measurable life-saving results. So far, 40 Days for Life campaigns have been conducted in over 1,000 communities in 63 nations. More than 17,000 children have been reported as saved from abortion. Local abortion numbers have dropped – as much as 28%. Post-abortive women (and men) are finding healing and forgiveness. In each city, hundreds -- more than 1,000 in some cases -- are getting involved with local life-saving ministry efforts for the first time.
40 Days for Life is a cross-denominational, faith-based effort made up of three key components:
Prayer and fasting: Inviting people of faith throughout our city to join together for 40 days of fervent prayer and fasting for an end to abortion
Peaceful vigil: Standing for life through a 40-day peaceful, prayerful, public witness outside the local Planned Parenthood abortion clinic located at 2140 Babcock Rd. Sept. 23rd —Nov 1st 7a.m.—7 p.m. (not Sundays)
Community outreach: Taking a positive, upbeat pro-life message to every corner of our city through media efforts, church presentations, door-to-door advocacy, and public visibility
Join in the Fall Campaign!
Peaceful, prayerful campaign to end abortion. Sign up for your
hour to pray at 40daysfor life.com/sanantonio
††††††††††††††††††††††††††††††††††††††††††
SACFL (Coalición de San Antonio por la Vida) 40 días para la vida
Kick-Off Rally
Sábado 19 de septiembre de 2020
1—2 pm
40 Dias por Vida, es una campaña centrada en la vida que genera resultados medibles que salvan vidas. Hasta ahora, se han realizado 40 campañas de Dias por Vida en más de 1,000 comunidades en 63 naciones. Más de 17,000 niños han sido reportados como salvados del aborto. El número de abortos locales ha disminuido, hasta un 28%. Las mujeres post-abortivas (y los hombres) están encontrando sanación y perdón. En cada ciudad, cientos --más de 1.000 en algunos casos- se están involucrando por primera vez en los esfuerzos del ministerio que salva vidas.
40 Dias por Vida es un esfuerzo denominado y basado en la fe compuesta por tres componentes clave:
Oración, ayuno e Invitar a las personas de fe en toda nuestra ciudad a unirse durante 40 días de ferviente oración y ayuno para el fin del aborto.
Vigilia pacífica: De pie de por vida a través de un testigo público pacífico, orante y de 40 días fuera de la clínica local de aborto Planned Parenthood ubicada en el 2140 Bobcock Rd. Del 23, de septiembre al 1, de noviembre de 7:00 am a 7:00 pm de lunes a sábado.
Objetivo comunitario: Llevar un mensaje positivo y optimista a todos los rincones de nuestra ciudad a través de esfuerzos mediáticos, presentaciones de iglesias, promoción puerta a puerta y visibilidad pública
¡Inscríbete en la campaña de otoño!
Campaña pacífica y orante para poner fin al aborto. Únete